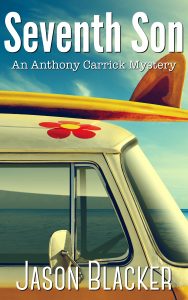 Anthony Carrick's demons are starting to haunt him. With the urging of his love, Dr. Emily Stratham, he's gone to see a psychiatrist.
Now the psychiatrist wants Anthony's help in investigating the disappearance of the psychiatrist's childhood friend.
In Corpus Christi, this friend, Phil Guston, who was a semi-pro surfer, has everything to seemingly live for. But a beautiful wife, a clutch of surf shops he's opened with another childhood friend seem to paint a bucolic picture.
Digging deeper, Anthony learns that Phil's father went missing and is presumed dead at the age that Phil has gone missing.
And then there's some old sordid Guston family business from up in Connecticut that seems to run generations deep. Could that have something to do with Phil's disappearance. And more importantly, has Phil just disappeared or is he actually, dead!
Click here to read more.
Click here for the eBook
Click here for the paperback