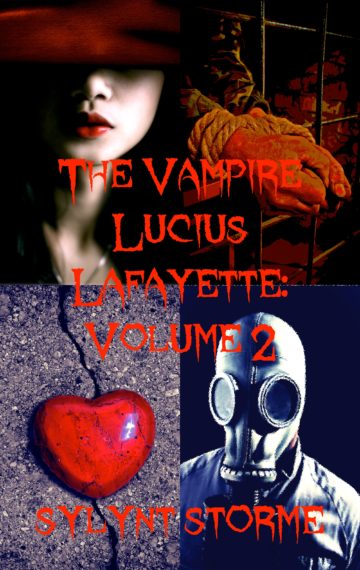 Four Pack
Publisher:

Lemon Tree Publishing

Available in:

Paperback and all eReader Formats
Buy From Amazon
Buy From Apple
Buy The Paperback
The Misgivings of the Vampire Lucius Lafayette
Stories numbered 5, 6, 7 and 8 in The Misgivings of the Vampire Lucius Lafayette series. This four pack includes the following 4 stories:
Death's Door:
Death's Door is #5 in in The Misgivings of the Vampire Lucius Lafayette series.
The vampire Lucius Lafayette has been shot 3 times by a member of Hell's Disciples. He's getting careless. However, he's just managed to make it back home to his mansions in New Orleans, present times.
The wounds are severe and deadly, even to a vampire. A specialized vampire doctor from Austin, Texas must be rushed to New Orleans in order to save his life.
But can the doctor save Lucius' life while his own son comes home drunk with murder on his mind. The house of Lafayette is being torn from within and with Lucius ailing and vulnerable is it time for change of leadership?
And what about the human who dared attempt to murder a vampire, let alone a vrykolakas. Revenge must be meted out and it must be served warm. The sins of the mothers will also befall their offspring.
Caged Heart:
Caged Heart is #6 in The Misgivings of the Vampire Lucius Lafayette series.
The vampire Lucius Lafayette is recovering nicely, but he is still weak and needs more quenching of blood before he can get his full strength back.
He must decide what will come of his youngest son who has been banished by his wife. Will the youngest son become a prodigal son or will he have to die for attempting to kill his father?
But before that determination can be made, Lucius must find his next meal. A fifteen year veteran New Orleans Police Department Sergeant seems to fit the bill. Acquitted of sexual assault and statutory rape, no misdeeds must go unpunished.
And what is this? A parcel delivered with a ransom note and a lock of Cage's hair. 3 million dollars is wanted for the safe return of Lucius' youngest son. They only have three days to come up with that kind of money. Will it be enough, or will his son be killed?
Broken Heart:
Broken Heart is #7 in The Misgivings of the Vampire Lucius Lafayette series.
Coming up with 3 million dollars is a lot of money, and it's a lot of money to come up with even for a vampire worth over 100 million dollars. But when you're Lucius Lafayette, you have friends who can help you in a pinch.
Besides, this is for the family. At least for the safe recovery and return of Lucius' youngest son, Cage.
Cage has been unrepentant lately and acting out. But he is still a vampire and as such he will be protected and saved, no matter the cost. This time it's personal, and the whole Lafayette Killing, including the ladies, Darina and Genevieve are going to get dirty in saving Cage.
But there is more to this story than meets the eye. The ransom is paid but the message sent is unexpected. Now the Lafayette vampires must hunt down the kidnappers and save Cage, before its too late.
Warmongers:
Warmongers is #8 in The Misgivings of the Vampire Lucius Lafayette series.
Well, the ransom hijack didn't go over as well as planned. Seems that Cage has now escaped from his father's saving graces. Though the rest of the Lafayette Killing isn't sure if Lucius is intent on saving Cage or killing him.
But more pressing things are bothering our narrator, like the mother who just killed her young children by drowning and shooting them. Can our narrator steer Lucius towards a quenching? A quenching of the narrator's vengeance?
It might be possible. Though Lucius has more important things on his mind. Like heading to Nazi Germany and killing the alpha werewolf of one of the most hated and violent werewolf packs. You might know this werewolf as Adolf Hitler.
Lucius is going to head on back to July 20, 1944 and see if he can't kill him during the botched bomb attempt on Adolf Hitler's life. Do the vampires really have to take care of all of humanity's problems?
Click here for the paperback
Click here for Amazon
Click here for Apple
Click here for Kobo
Click here for Nook
Click here for all other eReaders