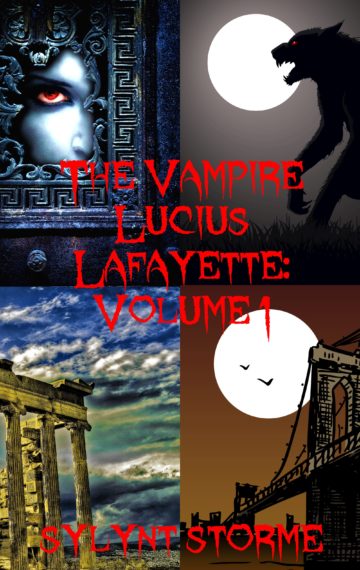 Four Pack
Publisher:

Lemon Tree Publishing

Available in:

Paperback and all eReader Formats
Buy From Amazon
Buy From Apple
Buy The Paperback
The Misgivings of the Vampire Lucius Lafayette
The first four stories in The Misgivings of the Vampire Lucius Lafayette series. This four pack includes the following 4 stories:
Leather Apron:
Leather Apron is #1 in The Misgivings of the Vampire Lucius Lafayette series.
Lucius Lafayette is not your mythological vampire. He's not your pasty face, sparkly, brooding vampire. He's real and he's a werewolf killer. Werewolves are his vermin and he's the exterminator.
He enjoys garlic and sunbathing in Saint-Tropez. In his spare time, he hunts werewolves and rips them apart, limb from limb.
Jack the Ripper has been terrorizing Whitechapel, London for weeks now. People are scared and the police just can't get a break in the case. It's up to Lucius to travel back to 1888 and catch this killer.
The killer is the alpha werewolf of the Vladik pack who has escaped Lucius' clutches for decades now. It's time for revenge and for the vampire to put an end to the werewolves terrorizing their herd of sheeple.
Mardi Gras:
Mardi Gras is #2 in The Misgivings of the Vampire Lucius Lafayette series.
Hot on the heels of Jack the Ripper, Lucius can taste the werewolf's flesh as he is called back to present times. To his home in New Orleans.
Which pack of werewolves has the audacity to attack the Lafayette Killing in their very home? Nobody tries to murder Baron Lafayette's family in his own house.
The Galvez pack is a notorious and dastardly violent pack of werewolves intent on doing nothing but savage humanity and eradicate vampires from Earth. But these beasts are vermin. Undisciplined vermin that vampires must eradicate.
Still, can Lucius take on a pack of werewolves and come out alive to talk about it?
Hemlock Crescent:
Hemlock Crescent is #3 in The Misgivings of the Vampire Lucius Lafayette series.
The vampire Lucius Lafayette has decided to visit Greece. Ancient Greece, where Socrates is a well-established philosopher and general. But the vampire is not there so much for Socrates as he is for the werewolves.
Athens is in a decades-long war with Sparta, a war that looks like they'll be losing. Lucius and Socrates sail out to fight against the Spartans, but they're ambushed by Spartan fisherman and taken as prisoners.
Socrates is released, a tired man, tired of an old war. His last days spent pontificating against the Athenian hegemony. Sentenced to death by werewolves. They're hell bent on eliminating the human race and creating anarchy.
Lucius is hell bent on eradicating the vermin that the werewolves have become.
Hell's Disciples:
Hell's Disciples is #4 in The Misgivings of the Vampire Lucius Lafayette series.
In the summer of 1976, Son of Sam starts his rampage. Many didn't believe him that it was his neighbor's dog who instructed him to go on his murderous shootings.
Lucius Lafayette, vampire and werewolf slayer, does believe him. But he thinks it is not a dog so much as a pack of werewolves who go by the name of Hell's Disciples who are instructing David Berkowitz to go on a killing spree.
Werewolves are hell bent on destroying humanity, and Lucius, though no saint is our only hope. But he can't even keep peace in his own family, almost killing his own son Cage.
These Hell's Disciples' werewolves are violent, strong and unrepentant. Has Lucius bitten off more than he can chew going into a den of 13 Lobison?
Click here for the paperback
Click here for Amazon
Click here for Apple
Click here for Kobo
Click here for Nook
Click here for all other eReaders