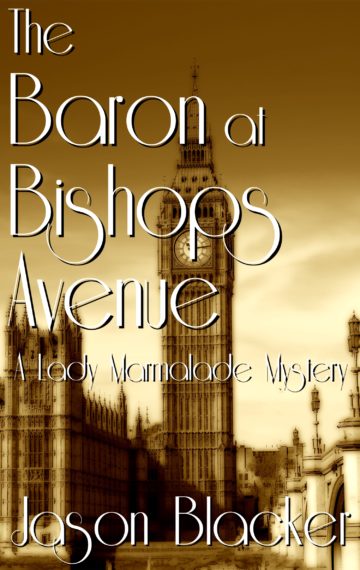 Publisher:

Lemon Tree Publishing

Available in:

Paperback and all eReader Formats
Buy From Amazon
Buy From Apple
Buy The Paperback
The Baron At Bishops Avenue is the fifth Lady Marmalade novel.
The 1920s in the UK and the USA were tough for many. There was the prohibition in the States. And of course with the Great Depression, a fella couldn't drink his sorrows away. That left murder as consolation.
But for the Woolsack, the United Kingdom's Speaker of the House, life couldn't be better. A beautiful wife, arguably the most powerful position in politics next to the Prime Minister, and a side business supplying the Americans illicit liquor.
Life couldn't get any better. Until it was taken from him suddenly. A young Constable Pearce and Inspector Husher need Lady Marmalade's help in solving this highly political murder quickly.
From the docks of New York to the seat of British political power and the posh enclave of The Barons Avenue, not everything in politics, power, and prestige is as enviable as it seems.
Click here for the paperback
Click here for Amazon
Click here for Apple
Click here for Kobo
Click here for Nook
Click here for all other eReaders