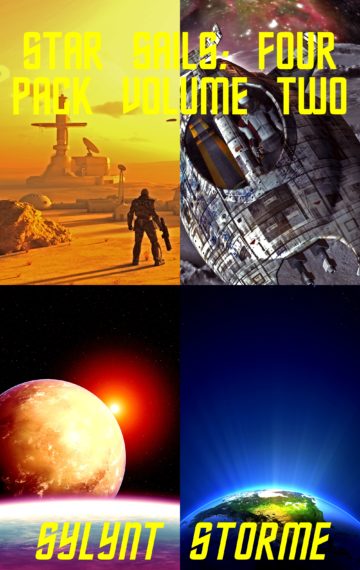 Four Pack
Publisher:

Lemon Tree Publishing

Available in:

Paperback and all eReader Formats
Buy From Amazon
Buy From Apple
Buy The Paperback
Tin Machines is #5 in the Star Sails' series.
Limping on their way home, the crew of the SS Falcon is in desperate need of supplies. The most important is gluonite so that they can get their hyper drive working.
Without faster than light engines running, it'll take them close to 30 million years to get back home. That's a little longer than the estimated life of the good ship Falcon.
They stumble upon the Ralens, an advanced alien race who have been overrun by their robotic laborers they call The Unknowns. If they can help the Ralens, Captain Stone, and his men might be able to grab some much-needed supplies.
But why has Scot Free, their android, gone rogue and trotted off to join the Tin Machines?
Brother's Keeper is #6 in the Star Sails' series.
Captain Stone and his crew of the SS Falcon are still trying to figure out how to get home to Earth from the Virgo Cluster. Problem is, they don't have gluonite. And without gluonite, they can't engage faster than light flight.
Coming across a stranded and badly damaged vessel that carries a single surviving soul harkens good fortune. Dr. Kelly finds this alien has remarkable genetic abilities including off the scale intelligence.
Could he be their hope of reworking the hyper drive to get faster than light flight without the much-needed gluonite? Possibly, except that he is an escaped convict determined to have the crew of the Falcon as his slaves and playthings.
Will Stone and his crew be able to overcome this evil maniac before he tires of them and squashes them like bugs, or will they need outside help?
Worm Turns is #7 in the Star Sails' series.
It's been 12 days. 12 long days since the crew of the SS Falcon left Earth. That means that they're late returning home. 5 days late to be exact, and they were told that they would be fired upon if they entered the Solar System late.
These were necessary precautions that Star Ship Command needs to take. But the crew are still eager to make their way home. They're tired, beat up and miss their families.
So thank goodness for FTL flight. Now they can travel faster than light and get home in time for dinner. Except there's a problem with that. They're further out in space than they realize.
Even at maximum FTL speed, it'll take the crew of the good ship Falcon over 100 thousand years to get home. But could there be another way? Some other method that could be used to get home before they die of old age?
Earth Rise is #8 in the Star Sails' series.
Faster than light flight is not going to get the crew of the SS Falcon home under 100 thousand years. But Scot Free has a genius idea. What about wormholes. There's a good chance that a wormhole will get them home quicker.
They've taken one and it ended up affecting Scot Free somehow. He's become belligerent and uncooperative. It appears he's been taken over by a photonic alien race of some sort.
Will this delay make it harder for them to get home? Or is it just a side trip before they get to their final destination?
How many more wormholes will be required to get them home sooner than later? Already they're 13 days late for getting home – they have to hurry. Loved ones are worried and the prognosis for a safe return is not looking good.
But Captain Jack Stone is not a man to give up easily. And he's got a crew that will fight within to the end. That's exactly what it might take for them to see Earth rise again.
Click here for the paperback
Click here for Amazon
Click here for Apple
Click here for Kobo
Click here for Nook
Click here for all other eReaders