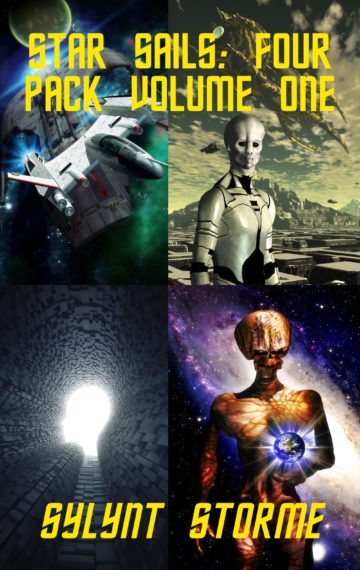 Four Pack
Publisher:

Lemon Tree Publishing

Available in:

Paperback and all eReader Formats
Buy From Amazon
Buy From Apple
Buy The Paperback
Dark Matter: #1 in the Star Sails' series
Earth's first space ship, the good ship Pax has been sent to the Virgo Cluster to make first contact.
Full of humanity's best and brightest engineers, scientist and leaders it is a peaceful mission of exploration. But something has gone terribly wrong.
Captain Jack Stone and his crew have seven days, one week to get out to the Virgo Cluster and find out what happened. The site is not pretty. It's a bloodbath. Aliens are waging war and Stone's men get caught in the middle of it.
Can they survive a barrage of more advanced technology or will they have to rely on androids? And are these androids as benevolent as they seem or are they out to enslave the human race?
What happens when you make first contact with a species that sees you as advanced as pond algae. Do they take pity on you or crush you underfoot?
Scot Free: #2 in the Star Sails' series.
The SS Falcon limps along to the planet Venid. The builders or Venidren are at war with a malevolent species of aliens called the Draken. The Venidren have built powerful androids to fight for their freedom.
The Falcon is returning one of these androids back to the builders in the hopes that this small gesture might bring them an exchange of supplies and resources to rebuild their ship.
They are running out of time to get back to Earth. But are these Venidren as benevolent as the android on board the Falcon has led them to believe, or are they being set up for servitude or worse?
Short Memory: #3 in the Star Sails' series.
After a couple of bad starts making initial contact with alien species, especially the Draken, the SS Falcon with Captain Jack Stone and his crew are heading straight back to home.
Space might be the Final Frontier but it certainly isn't turning out to be the Friendly Frontier. But what about these Klethren on planet Kleth? A vacationers paradise, even for battle-hardened space marines.
The activities and the landscapes are heavenly. The Klethren are the perfect hosts and accommodate any weary travelers' need for rest and relaxation. Just two days would energize many of the flagging spirits onboard the SS Falcon.
But something's going wrong. Stone is starting to become forgetful. He's got a splitting headache and his tactical officer can't remember where he was born.
Can the crew of the SS Falcon get out before they completely lose their minds, or have them stolen? Hmmm… I can't remember, you'll have to read on to find out.
False Gods: #4 in the Star Sails' series.
Jack Stone and the rest of the crew have had enough of alien races especially after losing more than half their crew. Captain Stone has ordered a direct and faster than light trip back to Earth.
There will be no stopping under any circumstances. But an alien entity puts the brakes on the SS Falcon and they come to an abrupt stop right in the middle of space.
They should be 45 million light years away from home. Yet here they are, right in the middle of the Milky Way and the Solar System.
If they believe in the benevolence of false gods they will find this an Earthly paradise. But there is always a cost to false beliefs. Can Captain Stone save the rest of the crew from falling into idol worship so that they might really get home?
Click here for the paperback
Click here for Amazon
Click here for Apple
Click here for Kobo
Click here for Nook
Click here for all other eReaders