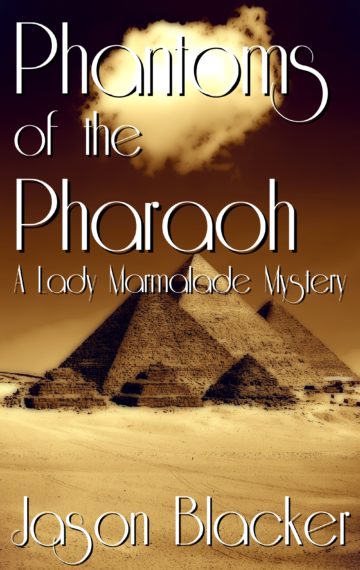 Publisher:

Lemon Tree Publishing

Available in:

Paperback and all eReader Formats
Buy From Amazon
Buy The Paperback
Phantoms Of The Pharaoh is the fourth Lady Marmalade novel.
Frances is taking her dear friend, Florence Hudnall on a four week holiday through Egypt to explore the ancient secrets that she holds. It has been a life-long dream of hers.
But when they arrive in Cairo things start to go terribly wrong. Albert and Abigail are bickering over returning stolen treasures, and the rest of the guests are not all that they seem to be.
One murder might be explained by the curse of the pharaohs, but when two more bodies turn up dead, there can only be one reason. There is a murderer amongst the guests on the boat sailed by Thoth Tours.
From the secret chambers and stolen treasures of the Pyramid of Menkaure to the lies and deceits of selfish men and women, watch Lady Marmalade fight dessert heat and family bickering to uncover the truth of the Egyptian murderer amongst their midst.
Click here for the paperback
Click here for Amazon
Click here for Apple
Click here for Kobo
Click here for Nook
Click here for all other eReaders