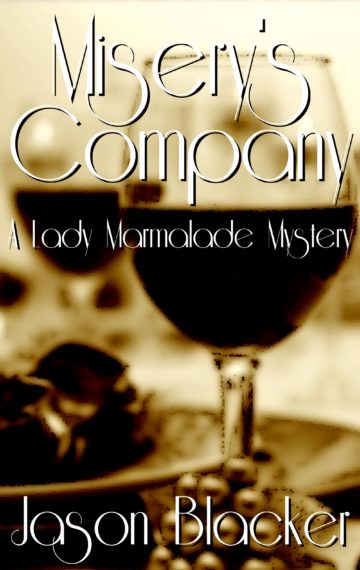 Novelette Story
Publisher:

Lemon Tree Publishing

Available in:

All eBook Formats
Buy From Amazon
Buy From Apple
Buy For Nook
Misery's Company is the fourth shorter Lady Marmalade mystery. Misery's Company is a novelette.
In Misery's Company, Lady Marmalade is having a few guests over for dinner and company at her 'cottage' called Avalon at Ambleside in the picturesque Lake District.
Sir Anthony Gibbons is a teller of engaging tall tales. A retired surgeon who was a friend to both Lady Marmalade and her husband Eric, Sir Tony regales the dinner guests with a true story of a murder most foul in Australia.
Lady Marmalade's good friend Jane Howard is one of the guests as is the businessman Ellis Hutchinson and his wife Lily. Sir Tony tells the tale of the murder of Melissa Kay, wife to Roger and mother to James.
At a dinner much like Lady Marmalade is hosting for her guests, Melissa is poisoned by someone who dined with her that fateful night. Not only was Melissa's husband and son there, but her good friend Laura Lynch and her sister Ellie were enjoying the meal too.
The question on everyone's mind is whether or not Lady Marmalade can be outfoxed and if anyone else can determine the real killer in Sir Tony's tale before she does.
Click here for Amazon
Click here for Apple
Click here for Kobo
Click here for Nook
Click here for all other eReaders