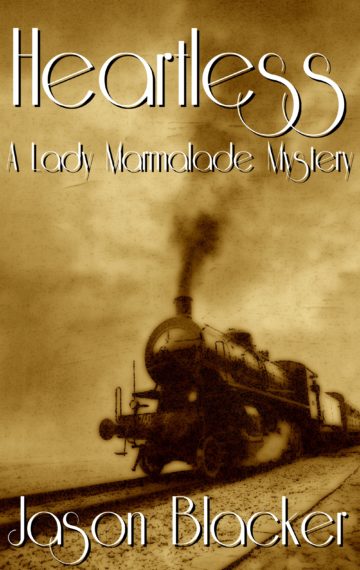 Novelette Story
Publisher:

Lemon Tree Publishing

Available in:

All eBook Formats
Buy From Amazon
Buy From Apple
Buy For Nook
Heartless is the third shorter Lady Marmalade mystery. Heartless is a novelette.
Major Jasper Moss Ethel Carpenter his daughter. Mr. Lewis Bryan. Winnie Smith. Capt. Isaac Houghton. Joseph Shipton the train conductor. Evan Cross, the waiter.
Lady Marmalade is taking the Flying Scotchman up to York. She needs to attend to some financial affairs related to the estate of her deceased husband, Eric.
It is a time of reflection and Lady Marmalade is eager to get onto the train and away from the cacophony of the train station.
However, the train will not offer the respite she requires. During dinner on the trip to York, Major Jasper Moss is murdered. He wasn't a nice man, but he didn't deserve to be killed.
In the short time before the train makes it to York, does Lady Marmalade have the time to determine who amongst the five dinner guests killed him?
Captain Houghton has a motive, he served under the Major in the second war. Winnie Smith has a motive too as does the Major's own daughter, Ethel who has accompanied him on this trip. Evan Cross, the waiter has a dark secret that gives him grounds for murder and Mr. Lewis Bryan had a business deal go bad with the Major that gives him incentive too.
Five motives, five possible killers, and one little old lady to figure it all out before they get to York and the killer escapes into the dark of night.
Click here for Amazon
Click here for Apple
Click here for Kobo
Click here for Nook
Click here for all other eReaders