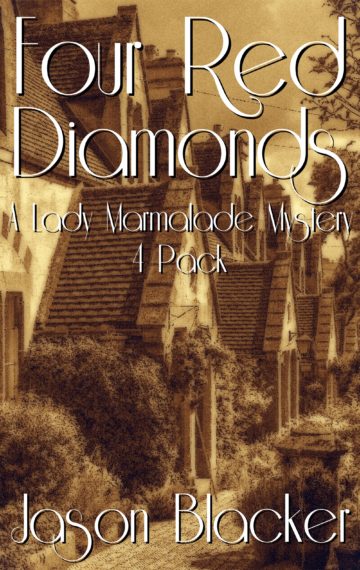 Four Pack
Publisher:

Lemon Tree Publishing

Available in:

Paperback and all eReader Formats
Buy From Amazon
Buy From Apple
Buy The Paperback
Poisoned Heart
Lady Marmalade's first mystery.
Visiting some friends, Lord and Lady Appleby turns out to be a dangerous affair. For the kitchen maid at least, who ends up dead.
How did she die and who would want to kill her is up to Lady Marmalade and Inspector Devlin Pearce to determine. Making their work even harder are the five suspects who all had reason to kill her.
The Lord of the manner who was having an affair with her. The Lady who was upset at her cheating husband. Her bastard son, her low life of an ex-husband or the butler who she had spurned.
One of them did it, though they all might have wanted to. In the lineage of Agatha Christie, this cozy mystery is set in the late 1940s.
Loose Lips
Lady Marmalade's second mystery.
It's just after the end of the Second World War and Lady Marmalade is looking forward to a nice relaxing holiday in Hightown. The war has been terribly stressful on everyone and Lady Marmalade's good friends, Harry and Genevieve Appleback have invited her over for some much needed R n' R and Irish Sea air.
But what should have been a relaxing holiday turns out to be a workout for Lady Marmalade's little gray cells.
Nana (Maude) Bloomfield, an heir to the Bloomfield Confectioner's dwindling fortune is found murdered in her study. There is a vast assortment of culprits like there is an assortment of Bloomfield Confectioner's sweets.
Her husband Ambrose is having an affair with Nana's oldest friend, Agnes Bennett. Both of them now benefit with Nana out of the way. But what about Owen Bloomfield, Ambrose's brother. He clearly didn't care for Nana's involvement in the business.
And Rufina Pritchard, Nana's stepdaughter is here from Australia looking for work, which Nana can't offer. Neither can Nana increase her son's stipend. Jasper Bloomfield, the son, is none too happy about that.
And to further complicate matters, someone's being pilfering not the Bloomfield Confectioner's sweets, but its profits.
Heartless
Heartless is Lady Marmalade's third mystery.
Lady Marmalade is taking the Flying Scotchman up to York. She needs to attend to some financial affairs related to the estate of her deceased husband, Eric.
It is a time of reflection and Lady Marmalade is eager to get onto the train and away from the cacophony of the train station.
However, the train will not offer the respite she requires. During dinner on the trip to York, Major Jasper Moss is murdered. He wasn't a nice man, but he didn't deserve to be killed.
In the short time before the train makes it to York, does Lady Marmalade have the time to determine who amongst the five dinner guests killed him?
Captain Houghton has a motive, he served under the Major in the second war. Winnie Smith has a motive too as does the Major's own daughter, Ethel who has accompanied him on this trip. Evan Cross, the waiter has a dark secret that gives him grounds for murder and Mr. Lewis Bryan had a business deal go bad with the Major that gives him incentive too.
Five motives, five possible killers, and one little old lady to figure it all out before they get to York and the killer escapes into the dark of night.
Misery's Company
Misery's Company is Lady Marmalade's fourth mystery.
In Misery's Company, Lady Marmalade is having a few guests over for dinner and company at her 'cottage' called Avalon at Ambleside in the picturesque Lake District.
Sir Anthony Gibbons is a teller of engaging tall tales. A retired surgeon who was a friend to both Lady Marmalade and her husband Eric, Sir Tony regales the dinner guests with a true story of a murder most foul in Australia.
Lady Marmalade's good friend Jane Howard is one of the guests as is the businessman Ellis Hutchinson and his wife Lily. Sir Tony tells the tale of the murder of Melissa Kay, wife to Roger and mother to James.
At a dinner much like Lady Marmalade is hosting for her guests, Melissa is poisoned by someone who dined with her that fateful night. Not only was Melissa's husband and son there, but her good friend Laura Lynch and her sister Ellie were enjoying the meal too.
The question on everyone's mind is whether or not Lady Marmalade can be outfoxed and if anyone else can determine the real killer in Sir Tony's tale before she does.
Click here for the paperback
Click here for Amazon
Click here for Apple
Click here for Kobo
Click here for Nook
Click here for all other eReaders