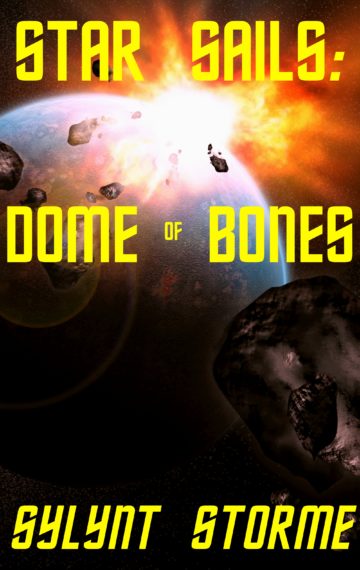 Novelette Story
Publisher:

Lemon Tree Publishing

Available in:

All eBook Formats
Buy From Amazon
Buy From Apple
Buy For Nook
Dome of Bones is #10 in the Star Sails series. It is a novelette.
Having not made contact with intelligent life from their previous mission, Captain Jack Stone and his crew on board the SS Asterias have firm orders from Star Ship Command that seeking first contact with intelligent life must be their ongoing focus.
Scot Free, the android, has determined that a binary star system called Navigon Five holds the best hope for finding intelligent aliens. Navigon Five holds five planets that might offer environments suitable for intelligence to have developed.
The problem is the dome surrounding these planets is a dense sphere of asteroids that is making the journey to Navigon Five treacherous. Halfway through the asteroid sphere, they come across a satellite that holds a dangerous secret.
It was launched recently by one of the planets' inhabitants. It offers the opportunity to make first contact, but at what could be a terrible price. Captain Stone needs to determine if putting his crew at risk is worth the price of making first contact.
Click here for Amazon
Click here for Apple
Click here for Kobo
Click here for Nook
Click here for all other eReaders